Stations From the Air - 2
Photogravure Supplement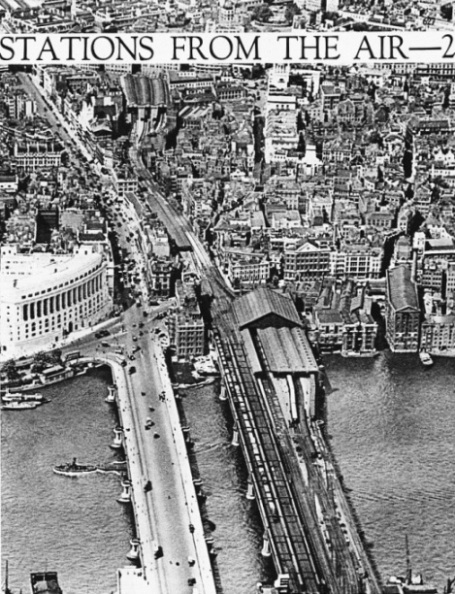 IN THE CITY OF LONDON. This splendid aerial photograph shows two important stations on the Southern Railway's system. In the foreground can be seen St Paul's Station, while farther up the line is Holborn Viaduct. The latter is a large terminus chiefly for suburban traffic, and has six platforms. The station was originally the city terminus of the London, Chatham and Dover Railway. Between St Paul's Station and Holborn Viaduct is Ludgate Hill Station, which was closed in 1929.
THE GREAT CLYDESIDE TERMINUS. Glasgow Central Station, on the LMS Railway. Glasgow Central, 401½ miles from Euston by the West Coast Route, is the terminus of trains coming from the south on the metals of the former Caledonian Railway, and is used by the "Royal Scot", "Midday Scot", and other well-known LMS expresses. The station has thirteen platforms, the longest of which has a length of 1,040 ft. About 600 trains are accommodated in a day. There is also a low-level station, with four platforms, used by local and suburban trains. North-bound LMS trains usually leave from the smaller Buchanan Street Station.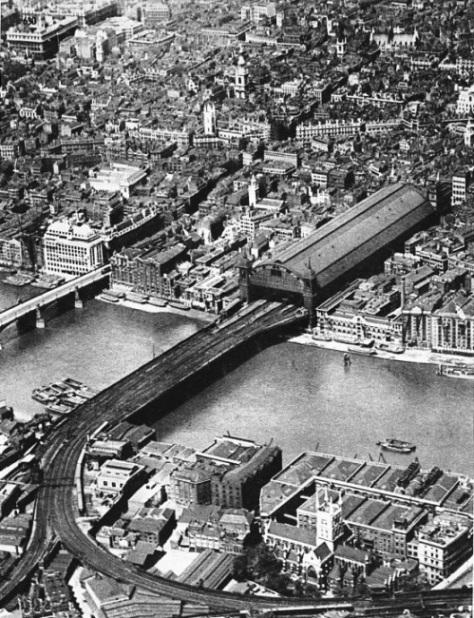 SPANNING THE THAMES. This striking photograph shows the vast network of lines which link Cannon Street Station with the south side of the river, and which take its trains to Kent via some of London's suburbs. One of the most notable features of Cannon Street, which has eight platforms, is a signal box that contains 220 levers. This station is served by steam and electric trains, and was opened in 1886 by the South-Eastern Railway. It is now one of the Southern Railway's six main line termini in London.
You can read more on "Railway Architecture", "The Romance of a Station", and
"Stations From the Air - 1" on this website.